Spanking Girl Gone Wild
Studio: Shadow Lane
One lovely submissives journey to a mind-blowing orgasm, via discipline and masturbation. Featuring spanking, strapping, paddling; vaginal, anal and oral dildo penetration and female self-pleasuring through the use of a vibrator wand. Political activist, spanking enthusiast and borderline sex addict Karen Just (Madison Young) awakens in a dangerous mood. Fighting the wild urge that she has to go out and pick up a stranger, the petite, alabaster-skinned beauty puts in a desperate phone call to her sponsor at her sexual support group and implores him to come to her assistance at once. Karens sponsor (Devlin ONeill) reluctantly rearranges his schedule to go to Karen and attempt to tamp down her out-of-control sex drive in any way that he can. But Devlin is scarcely prepared for the insatiable vixen who awaits him, deceptively dainty in a sheer pink summer dress. The shocking contrast between her innocent demeanor and the frank expression of her most lascivious desires galvanizes Karens sponsor into action. Obviously Devlin has no recourse but to spank her, at once! Devlin spanks, paddles and straps Karen, scolding her for her inability to control her crazy urges, reminding her that picking up strangers for anonymous sex is risky in all sorts of ways. Karen agrees, but maintains that she just cant help herself. She needs even harder spanking, just to stay focused on behaving herself. It soon becomes apparent to her sponsor, that Karen needs more than spanking on her bottom. She needs to have her pussy spanked and filled and her bottom trained to hold a vibrating dildo while she is spanked even harder. Karen does not disagree. She produces her own toy case and draws from it a number of useful objects, which her sponsor soon begins to employ in an effort to fully engage Karens attention. With a large rubber phallus in her pussy and a long, slim vibrator deeply inserted into her bottom, Karen is once again taken over her sponsors lap for discipline. It is so much more effective with Karen completely filled that her sponsor cannot help but be pleased. Then, once more, Karen begins to lose control. She goes off on several verbal fantasy tangents that Devlin feels must be curbed. But then it only turns out that Karen really wants something big in her mouth as well. Presently Karen receives her own pussy juice-soaked rubber dildo to suck and then begins to be a better girl. Karens sponsor senses that only the most intense orgasm will do for the inflamed redhead at this point. So he lays her back on the bed, with Karen still gripping the sex toys deep in her pussy and bottomhole, and has her apply the head of a powerful vibrating wand to her pouting clitoris while he pinches her luscious pink nipples between his fingers. Even though Karens bottom is still blushing bright red from all the spanking, she strains her white thighs upward for additional discipline while she is getting herself off. Devlin spanks Karens upthrust thighs vigorously while Karen goes for the ultimate submissive orgasm and ends unmistakably satisfied. To claim that the action in Spanking Girl Gone Wild is hot would be a vast understatement, as Madison Young is not only a beauty but she is a BandD sex goddess of the first water, who at 28 has already won numerous industry awards for her extreme fetish virtuosity and xxx-rated exhibitionism. In the world of Shadow Lane she plays social activist Karen Just. In real life, Madison Young is a fully engaged feminist, erotic art gallery curator and producer of top quality X-rated entertainment, who travels the country and the world educating an open minded public about the efficacy of good sex and great BandD. Madison Young takes a great spanking and so much more in Spanking Girl Gone Wild. With her Titian hair and blushing skin, her smart girl attitude, wildly expressive sexuality, and a certain madcap sense of humor that may be completely original to herself. Madison Young is just about as perfect as a spanking fantasy gets. Freaky, flawless, wanton, adorable Madison Young doing her crazy tricks provides the sort of guilty pleasures youll want to return to again and again in Spanking Girl Gone Wild.
Format: Windows Media
Duration: 40:13
Video: 480x360, Windows Media Video 9, 1220kbps
Audio: 62kbps
File size: 370.8 MB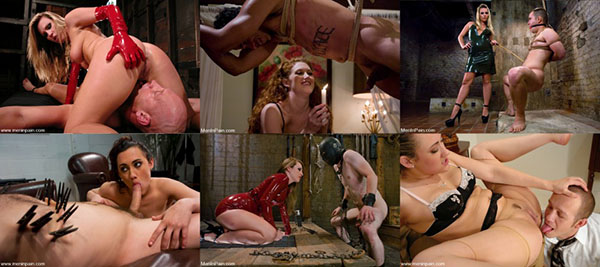 Join Men in Pain (Access to all 24 Kink.com's BDSM sites network) site and get premium membership to FilesMonster.com (500000+ HD scenes) for free!
BDSM Related Videos